Exploring Birdsong - 'Flowers' T-Shirt & 'The Thing With Feathers' EP Bundle
This bundle also includes: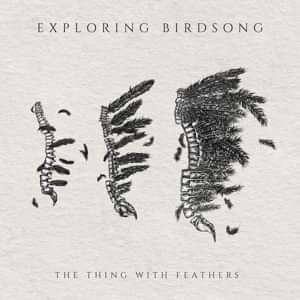 Exploring Birdsong - 'The Thing With Feathers' EP
"The Thing With Feathers" by Exploring Birdsong. The CD-EP comes in a sleeve pak including the bonus track "Deliverance".
Rarely are new groups as exciting, talented or unique as Exploring Birdsong, the piano-led guitarless trio from Liverpool. Straddling progressive rock, pop, and uncategorizable genre-blending beauty, the band deliver with their debut EP The Thing With Feathers. The release follows the success of singles 'The Baptism' and the one-take a capella version of the classic '(Don't Fear) The Reaper'. The EP is broadly speaking a concept release, centred on the Seamus Heaney poem 'Bye Child' and the story of Kevin Halfpenny, one of the most bizarre cases of child cruelty ever recorded. This is mirrored in the EP title and cover art (designed by Lynsey), with broken backbones becoming broken wings. The title itself also references Emily Dickinson's "'Hope' is the thing with feathers" poem, which itself is a call-back to the music found within.
(Release date: November 29th, 2019)
Tracklisting:
1 Hope
2 The River
3 The Sinking Question
4 The Thing With Feathers
5 The Baptism
6 The Downpour
7 Deliverance (EP Bonus Track)
This bundle also includes: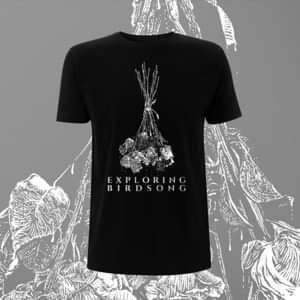 Exploring Birdsong - 'Flowers' T-Shirt
Black unisex classic jersey t-shirt.
Screen printed front only.
100% Combed Cotton.

PETA-Approved Vegan